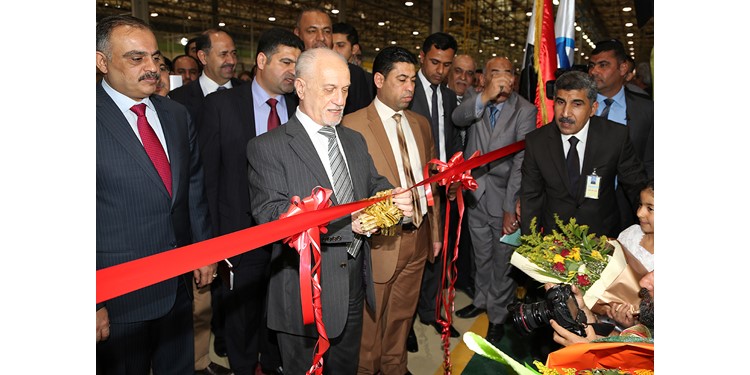 Hussein al-Shahristani: The Iraqi government will be supporting the Ministry of Industry to develop factories and factories in a manner that gives competition to Iraqi production with global production
BAGHDAD (Reuters) – Iraqi Deputy Prime Minister for Energy Hussain al-Shahristani opened the first car factory in Iraq on Monday, while the industry sector suffered a lot after 2003, he said, hoping to replace cars on the streets with Iraqi-made ones.
Shahristani said in a press conference held during the opening of an Iraqi car factory in Alexandria and attended by the "obelisk" that "the Iraqi society consumer society imported all the basic requirements of life and remained dependent on the extraction of natural resources of oil and gas without adding additional value to them," noting that " Iraq needs basic resources to promote the rest of the other important sectors, whether industrial, agricultural or tourism, in addition to service.
He added that "the government has now turned to the interest of Iraqi industries and the mission, especially the mechanical and automotive industries after providing the appropriate ground through cooperation with the private sector and foreign companies," noting that "the industry suffered during the last period, both before or after 2003 because of his feet And the inability to compete with modern industries, in addition to that others were using primitive means were not in most productive.
Shahristani said that "Iraq is looking forward to the manufacture of a number of Iraqi cars and trucks and that the activation and rehabilitation of other plants to manufacture spare parts of mechanical or other equipment feeding the plant to feed the need," expressing his hope "to find Iraqi cars roaming the streets of Baghdad and the Iraqi provinces, In addition to the production and manufacture of trucks and agricultural tractors that concern agriculture. "
He added that "the Iraqi government will support the Ministry of Industry to develop its factories and factories in a manner that gives competition to Iraqi production with global production," noting that "Iraq should not forget other industries to develop such as pharmaceutical, agricultural and textile industries."
Shahristani called on the Iraqi private sector to "intensify efforts to establish plants that feed the plant with all needs."